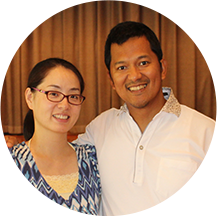 Message from Senior Minister
Dear Okinawa Friends,
Welcome to Okinawa Church of Christ.
We are a unique family with members of different nationalities, Japanese and foreigners, different walks of life, civilian and military, salary-man, business owners and missionaries, committed to love one another despite of our differences.
For you, this means that when you come for the first time, you can find at least one or two people who can relate to you. Yes, you would find that each one of us is unique individual, just like you. And yes, you would also find that we are one family regardless the differences.
How come? Because our lives have been changed by the same man, Jesus. Because he loved us even when we didn't know nor love him. He taught us to love freely.
"Freely you have received, freely you give."
"It is more blessed to give than to receive."
To love other freely is tough, we admit. We fail often even as we continue growing. It gives us more reason to commit to helping one another. Because Jesus commanded us; "…just as I have loved you, you also are to love one another. By this all people will know that you are my disciples, if you have love for one another."
We are a family of Jesus' disciples. We want all people in Okinawa know Jesus through our relationships. We want you to know Jesus and his unconditional love for you. He has plan for you. Please come and experience Jesus together, as we are experiencing him in Okinawa.
Looking forward to have you with us.
Sosro and Keiko